The Adapting to Rising Tides (ART) Program conducted a climate adaptation planning effort in Contra Costa County, building understanding and planning for the diverse challenges and opportunities presented by adapting to sea level rise in the County.
Focusing on the risks to the county from current and future flooding, as well as other challenges and opportunities, ART staff and local agencies worked with other stakeholders to improve the resilience of the County's coastal communities. The ART Contra Costa project area extended from Richmond to Bay Point. The project area, with its varying local topographies (from bluff to wetland to creek mouth), different types of land uses, diverse communities, and the presence of extensive rail and energy infrastructure, offered an excellent opportunity to better understand the diversity of vulnerabilities and consequences from current and future flooding. This project, along with others around the region, will increase local and regional capacity to address the challenges posed by current and future flooding.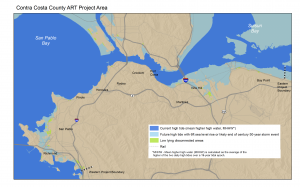 The final report and project materials on this page are a resource for advancing action in Contra Costa County and the region. These resources are also intended to provide information that can be used by other communities around the Bay Area and entire nation.
Project Status
The Contra Costa ART Project began in late 2014 and concluded in the fall of 2016. ART staff continue to work with the communities and asset managers to advance the findings and recommendations in the study. Visit the Contra Costa Project Meetings Page for project presentations and find out more about the process.
Findings and Materials
Final Project Report and Appendices Page
Due to the size and detail of the report and appendices this page will help you navigate to the sections of the report that are most relevant to you.
Project Meetings Page
This page includes meeting agendas, project presentations, and other materials from the study process.
Contra Costa County: Shoreline and Inundation Mapbook

Project Partners
Staff from the San Francisco Bay Conservation and Development Commission's (BCDC) ART Program led the project with support and regular input from the Stakeholder-Working Group. The funding for the project came from NOAA Section 309 and California Coastal Resilience Funds and in-kind support from the City of Richmond Public Works and Contra Costa Flood Control and Water Conservation District.

For more information:
Jaclyn Mandoske
Jaclyn.Mandoske@bcdc.ca.gov
415-352-3631