There is a recognized challenge of tracking the SF Bay's progress towards resilience because comprehensive information about shoreline adaptation projects in the region does not exist in an easily accessible, updateable, or sharable forum. This poses a challenge to coordinating adaptation towards a regional strategy, ensuring equitable outcomes for adaptation, and communicating the region's need for resources.
The Shoreline Adaptation Project Mapping Program (SAPMAP) aims to spatially track adaptation projects, communicate regional progress on shoreline resilience goals, and support a living network of community-based partners poised to lead adaptation planning, construction, and monitoring. Extensive progress has already been made in tracking information on restoration projects, many of which include adaptation and flood risk reduction goals, utilizing the platform EcoAtlas. The models and workflows in EcoAtlas that identify, catalog, and map this information serve as a template for how information about other adaptation efforts can be included and integrated with restoration tracking to develop a comprehensive picture of shoreline adaptation.
 Project Status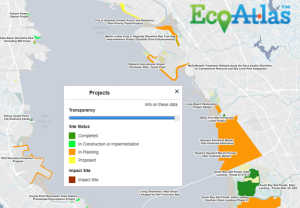 The SAPMAP has made progress towards these goals over the last two years by coordinating and convening regional partners, recommending and implementing technical enhancements to EcoAtlas, researching and inputting adaptation project data, and formalizing data entry requirements through existing funding and permitting programs.  
In the first real proof of concept, the data collected through the SAPMAP will be utilized by MTC in 2022 to help inform the Sea Level Rise Funding and Investment Framework of Plan Bay Area 2050. The SAPMAP will be critical in the implementation of Actions called for in Bay Adapt: Regional Strategies For a Rising Bay and as such BCDC has committed staff capacity and is seeking additional funding to continue serving in its coordination, administration, and data management roles.  
Findings and Materials 
Related Projects 
Project Partners 
Special thanks to the San Francisco Estuary Institute, Metropolitan Transportation Commission, Bay Area Regional Collaborative, San Francisco Bay Regional Water Quality Control Board, San Francisco Bay Joint Venture, San Francisco Bay Restoration Authority, California Coastal Conservancy, CalTrans, Coastal Hazards Adaptation Resiliency Group, San Francisco Estuary Partnership, Association of Bay Area Governments. 

For more information:
Todd Hallenbeck
Todd.Hallenbeck@bcdc.ca.gov