This report is a summary of the products and outcomes from the project team and working group. It is intended to serve as a valuable resource for advancing resilience action in Contra Costa County, and providing information that can be used by other communities around the region. The links below take you chapters covering the ART Program; a summary of the planning process; detailed assessments of 30 asset categories from 11 sectors and key planning issues; adaptation responses developed for asset categories and key planning issues; a summary of the mechanisms for evaluating specific responses; and guidance for implementing four of the key actions.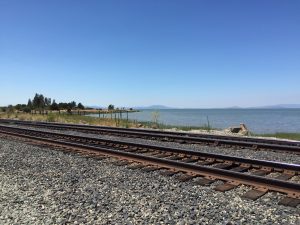 ADAPTING TO RISING TIDES PROGRAM INTRODUCTION AND OVERVIEW
THE ART PLANNING PROCESS IN CONTRA COSTA
This Section provides an overview of the project team, meetings and general process followed for the ART Contra Costa Project.
ASSESSMENT FINDINGS
The Contra Costa ART project included an exposure analysis and detailed vulnerability assessment of 30 asset categories across 11 sectors as well as asset-scale evaluation for 15 representative assets. The sections below present the detailed assessment information describing the vulnerabilities faced and the consequences that could occur if the sectors, asset categories or individual assets evaluated were impacted.
PROJECT KEY PLANNING ISSUES
Key planning issues are the challenges that require the collective focus of the project team, the working group and other stakeholders to take action. In the Contra Costa ART project, six key planning issues emerged that cut across the sectors, geographies and governance challenges identified in the assessment.
ADAPTATION RESPONSES
Adaptation responses were developed for the project's thirty asset categories and six key planning issues. ART adaptation responses go beyond a list of adaptation strategies, rather they are a comprehensive "package" of adaptation information that: presents a number of possible stand-alone or sequenced actions; connects actions to the assessment outcomes (i.e. the vulnerabilities and key issues); identifies possible implementation partners and processes; and provides greater transparency and support for evaluation and implementation.
EVALUATION AND IMPLEMENTATION PATHWAYS
Project-specific evaluation criteria play a central role in ensuring transparent decision-making in adaptation planning. In the Contra Costa ART project a set of evaluation criteria were developed and applied to a select number of key planning issue actions.Using the evaluation criteria, implementation pathways were developed and evaluated for four near-term, priority actions to help address the four overarching themes identified in the project: 1) a resilient transportation system; 2) integrated shoreline management; 3) targeted education and outreach; and 4) improved emergency and hazard mitigation plans.
CONCLUSION AND RECOMMENDATIONS
APPENDICES