The ART Program is working with local, state, regional and federal agencies and organizations to gather, develop and analyze the data needed to understand the impacts of a changing climate on Bay Area communities, infrastructure, services, and natural resources. Each ART Program project has a rich repository of data, maps and analysis about the many assets, asset categories and sectors evaluated. Below are the currently available geospatial data and mapping products created by the ART Program to support climate resilience planning at both local and regional scales.
ART Regional Sea Level Rise Maps (Inundation and Shoreline Overtopping Analysis)
The integrated regional shoreline mapping and analysis are robust and accurate mapping products that leverage the latest LiDAR topographic data sets, the FEMA San Francisco Bay Area Coastal Study and San Francisco Tidal Datums Study, and the regional shoreline delineation developed by the San Francisco Estuary Institute.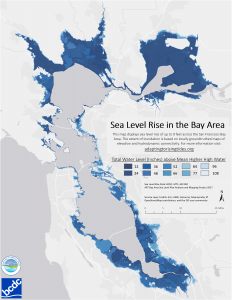 | | | |
| --- | --- | --- |
| County | Mapbook (PDF) | Geodatabase (Download) |
| Alameda | | |
| Contra Costa | | |
| Marin | | |
| Napa | | |
| San Francisco | | |
| San Mateo | | |
| Santa Clara | | |
| Solano | | |
| Sonoma | | |
More information is available on the Bay Area Sea Level Rise Analysis and Mapping Project page
ART Community Flood Risk Mapping
Project Specific ART Mapping Products
ART Contra Costa County
ART Oakland / Alameda Resilience Study
ART Alameda County Asset Maps
FEMA 100 and 500 Year Flood Zone Data
For risk assessment and planning purposes, BCDC created a shapefile of the FEMA 100-year and 500-year flood zones in September 2017. At this time, the following geographies had preliminary status with FEMA: Bay adjacent areas in Alameda County, Bay adjacent areas in San Mateo County, Bay adjacent areas in Santa Clara County, and entire San Francisco County. This shapefile is not a reference for flood insurance. Flood Insurance Rate Maps should be obtained directly from FEMA. More information included in the metadata.
Click here to download a zipped file of the FEMA Flood Zone data.
And stay tuned: the ART Program is developing state-of-the-art web-based tools to assist in the broad dissemination and use of data and mapping products to support local and regional climate change and natural hazards planning.
Creation of data and mapping products is on going. On this page you will find our currently available products, however the ART Program may have additional resources that can be shared on request.

For more information about available data and products contact:
Heather Dennis
Heather.Dennis@bcdc.ca.gov